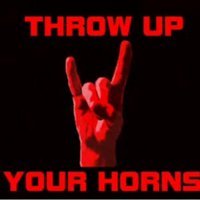 About This Club
Throw the horns ! And bang your F*ckin heads ! This is the hyper metal cave! Join the circle!
---
What's new in this club

cid67

joined the club

Slydawggy

joined the club

i love system of a down i saw a cover band play it out it was awesome this is my fav album from them i also love night wish disturbed and rammstien and lets not forget the legend metallica and one more band i love is linkin park

relic

joined the club

psychopath

joined the club

CABLE

joined the club

Skywatcher

joined the club

jamiedp

joined the club

Lets sing the bards song... Open the Gates!

its a Metal kind of day today.. Two tracks from the same artists.. Suidakra. (Though they are worlds apart..) Something slow and amazing (One of my favourite Instrumental songs) And some face punching Metal!

Also a wee cover from some amazing young artists. That drummer just nails it.

Some more Devin to chill to? Headphones for this is a must, so many layers. Shut your eyes and just dream his dream.

Just another track, this time a great vocal combo.

And again.. Awesome brother combo in this band praise the Lamb of God.

Just adding another song for another favourite. Hope you have all heard of Opeth. Else.. Welcome.

He is pretty incredible. From Featuring in some Steve Vai songs that are "Soft" Metal. To Strapping Young Lad.. which is Face Melting Metal. His vocal range is just awesome.

Just gonna drop this here. Another favorite band with just amazing timing and structure overall.

powervr2

joined the club

Trigger911

joined the club

KillTonic

joined the club

I'd not heard of Devin before and after watching the above video I'm still in shock. I need to watch it again in the morning.

I still need to type up my story, but just dropping another track here... don't mind me. For those of you who don't know of Devin.. your life is about to change. I have been listening to him for so many years and every song of his from ALL of his band's/projects I love. Enjoy.

This was a great evening!

Hey Awesome ! Thanks Jiar ! Yes wel, the avatar.. I dunno .. I got tired of it. For my own personal story, it all started with my 15th Birthday when I got my first walkman. and class mates were kind enough to provide me with my blue and red pill in the form of mix tapes. one tape contained a mix of House and rap music, the other contained a mix of Punk and metal. after a week of honest listening I decided to stick to the punk and metal stuff. the tape had bands like the exploited, therapy, metallica and Nirvana on them. in those years I had a little access to extreme metal as my allowance went mostly to computer hardware and video games, but when I finished highschool and went to, college I think this would be, in the netherlands it's called Voortgezet onderwijs (Continued Education) on the MBO, middelbaar beroeps onderwijs ( secondary Proffession Education) I was introduced to a wider ranger, I started to enjoy Black and death metal. bands like Immortal, Death, Morbid angel, Sepultura(older), and so on. my first real gig I went to was The Kovenant, I got into them at the time when they were still called Covenant and Listened to their Nexus Polaris album. anyway This tour was to promote their animatronic Album, a departure of what they used to do, but it sounded great non the less.. my favorite Bands are: Emperor Death Bolt Thrower Grave MEtal Church Iron Maiden Triptykon

Klop, what happened to the Deicide avatar? I'm surprised Glen Benton is still alive TBH. Best place to start is the beginning, I may have been around 15 and listened to mainly early HipHop while delivering newspapers. At that time I liked acts like Africa Bambarter, RunDMC, Fat Boys, Street Sounds Electro compilations ( and Public Enemy etc. Then came the day when Iron Maiden was on the radio and I thought, I kinda of like that but if I tell anyone I would be mocked; and i was by my mates at the time (they now like Iron Maiden just as much as me.) After leaving school I started a job and the guy I worked with there liked Rock so I was soon listening to Lynyrd Skynyrd, UFO (Rock Bottom being one of my favourite solos as well as Welcome to Dying by Onslaught and Comfortably Numb by Pink Floyd) and Black Sabbath. That is where my metal roller coaster started, which went from the above then on to Megadeth, Metallica, Suicidal Tendencies (one of my all time favourites, I thought Mike Muir was so cool and Rocky George was a god), Slayer, and other thrashers. But things got more extreme as the years passed, with bands such as Napalm Death, Deicide, Carcass and Bolt Thrower. I could go on and into grunge as well but that's enough of my reminiscing. While thinking about this post I have been surprised by how many bands I loved are still going or have reformed, I have lots to catch on but they may not be the same as they were. Present day I listen to many things (just not reggae, never liked it), but metal my three favourites are Katatonia, Ghost and the band I love is Northlane. I wish I could go see those three but have no one to go with. Oh, I also like Kill Switch Engage and Slipknot. All Time favourite albums: Pink Floyd - The Dark Side of the Moon (1973) UFO - Phenomenon (1974) Iron Maiden - The Number of the Beast (1982) Metallica - Master of Puppets (1986) Suicidal Tendencies - How Will I Laugh Tomorrow When I Can't Even Smile Today (1988) Bolt Thrower - Realm of Chaos – Slaves to Darkness (1989) At The Drive-In - Relationship of Command (2000) Northlane - Node (2015) Best gigs. Carcass - Oxford - Necroticism – Descanting the Insalubrious tour Nirvana - Bristol Bierkeller - Bleach tour Hard-Ons - Bristol Bierkeller - Love Is a Battlefield of Wounded Hearts tour Fudge Tunnel - Nottingham Rock City - Hate Songs in E Minor tour Also love electronica and Drum & Bass for a while. Thanks for listening.

gigapig

joined the club

Dreygor

joined the club

Ah yes! Gorguts! This evening in my favorite venue "Baroeg" http://baroeg.nl/programma/gorguts-havok-fallujah-revocation-venom-prison/ I'm Psyched ! It has bee n a while since I've been to a concert, Gorguts is a Canadian technical death metal band from Sherbrooke, Quebec, formed in 1989. The band has been through many personnel changes since its inception, and its only constant member has been guitarist and vocalist Luc Lemay, who remains the primary creative force in the band. To date they have released five full-length albums and one EP. Their most recent release is the EP Pleiades' Dust, released on May 13, 2016, which consists of a single 33-minute song about the House of Wisdom that once stood in Baghdad. Their latest full-length album Colored Sands was released in 2013 and was nominated for a Juno Award.[1] Musically the band is known for its complex, musically dense form of technical death metal, and has become "one of the most advanced, experimental, and challenging groups in the entire genre.

scooter1974

joined the club

volumetric

joined the club

Dime333

joined the club

cranhill

joined the club

I will just drop a video for now from another lover of the Metal! But will come back with a full write up of how/when I was introduced to Metal to my current likes in the Genre(s).